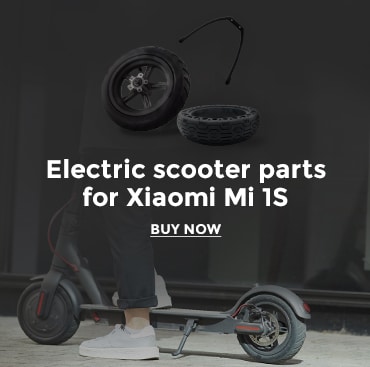 Xiaomi Mi 1S parts and accessories

Our Xiaomi Mi 1S parts and accessories give you the opportunity to customize your electric scooter in order to have a unique model and also to easily replace any spare part of your Xiaomi scooter with ordinary tools.
At Escooterfix you will find everything for your Xiaomi M1 1S whether it is an upgrade or a repairition, you are able to cover your needs. It is very common to use Xiaomi scooter parts to fix your scooter as the daily use of the vehicle, for example, commuting or transportation to meet your friends, can lead to broken spare parts.
Check out our Xiaomi Mi 1S parts catalogue

Xiaomi Mi 1S accessories and upgrades

Xiaomi Mi 1S accessories let you customize your electric scooter. Feel free and update your Xiaomi with the upgrades you love the most like fluorescent tyres that glow in the dark, fenders and mudguards of different colors or a upgrade kit for your Xiaomi Mi 1S with lights are some of our upgrades.
Just like Xiaomi Mi 1S parts, these accessories are very easy to add to your electric scooter: with a regular set of tools you will be able to adapt them and start riding with your own style. You won't see any Xiaomi Mi 1S like yours!
Escooterfix: Your Xiaomi Mi 1S parts and accessories store

Xiaomi Mi 1S is one of the most complete electric scooters in the market thanks to its unforgettable design and its innovative features like dual front brake system and the brand new 8.5 inch tires. If you are looking for parts and accessories for this model, you are at the right place.
In Escooterfix you trust in the quality of our Xiaomi Mi 1S parts and accessories and we offer 1 year warranty in all of them and also a 30 days return policy if you are not satisfied with your purchase.